Psiphon[1] is a software project designed by University of Toronto's Citizen Lab under the direction of Professor Ronald Deibert, Director of the Citizen Lab. Psiphon is a circumvention technology that works through social networks of trust and is designed to help Internet users bypass content-filtering systems setup by governments.
"We're aiming at giving people access to sites like Wikipedia," a free, user-maintained online encyclopedia, and other information and news sources, Michael Hull, psiphon's lead engineer, told CBC News Online.[2]
Psiphon was originally implemented in Python, but has been re-designed and re-written in C++, and designed as a cross-platform, user friendly proxy server tool which uses a https protocol to transfer data. With a user name and password, people in countries that use Internet content filtering can send encrypted requests for information to a trusted computer located in another country and receive encrypted information in return. As https protocol is widely used for secure communication over the Internet (from web mail to Internet banking), no government can block https traffic without further restricting its citizens' ability to use the web, something that has not dissuaded these governments' Internet censorship efforts thus far.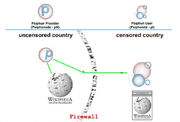 According to Nart Villeneuve, Director of Technical Research from the Citizen Lab, "The idea is to get them to install this on their computer, and then deliver the location of that circumventor, to people in filtered countries by the means they know to be the most secure. What we're trying to build is a network of trust among people who know each other, rather than a large tech network that people can just tap into."
The software is funded by the Open Society Institute and was released under the GNU General Public License (GPL) on 1 December 2006.[1]
References
Edit
External links
Edit
Ad blocker interference detected!
Wikia is a free-to-use site that makes money from advertising. We have a modified experience for viewers using ad blockers

Wikia is not accessible if you've made further modifications. Remove the custom ad blocker rule(s) and the page will load as expected.